Health Benefits of Seaweed Baths
Natural Minerals & Nutrients
Within the natural world there is no family of plants known which are more protective against radiation and environmental pollutants than sea vegetables or seaweed. Seaweed is packed with easy to absorb minerals such as calcium potassium iodine and zinc. Most importantly Iodine, which is rare in land plants, has been used as an antiseptic in surgery for centuries. Iodine is a relatively rare element in the Earth's crust, but is concentrated in the oceans. It is the heaviest essential element known to be needed by all living organisms, but its rarity in many soils has led to many deficiency problems in the past with land animals and in human populations.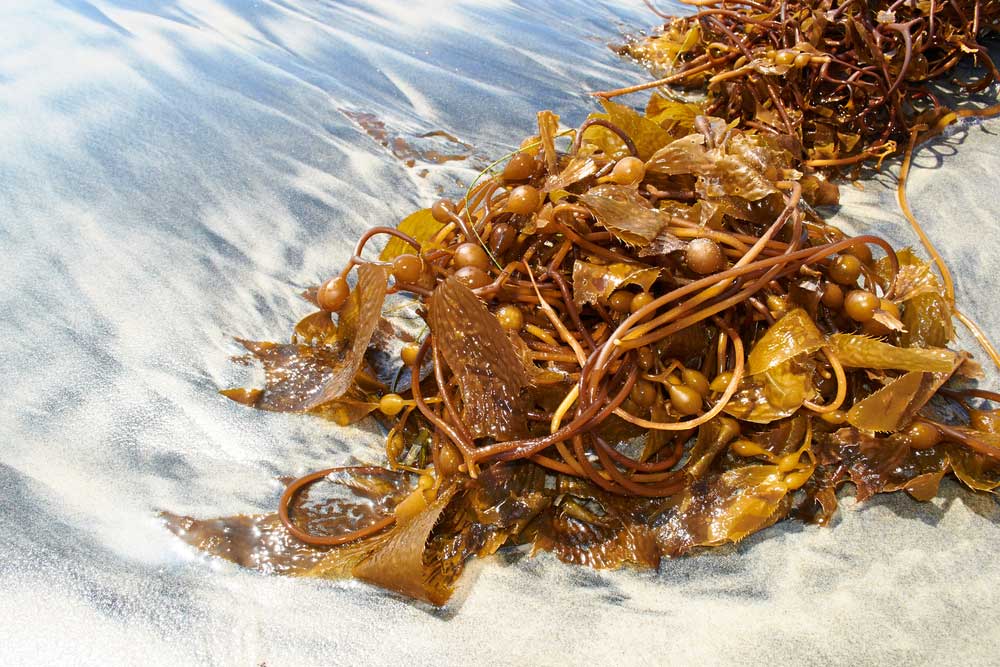 Brown seaweeds, used in the Connemara Seaweed baths contain more minerals and nutrients than their red and green counterparts. Seaweeds, especially Bladderwrack help to eliminate toxic build up due to everyday living. Irish people have the lowest Iodine levels in Europe and saltwater seaweed bathing helps the body to absorb this wonderful mineral and according to the Irish Journal of Medical Science "Irish women of child bearing age are not getting enough iodine in their diet"
Benefits of Saltwater Seaweed Baths:
Detoxification
Arthritis & Rheumatism
Eczema & Psoriasis
Acne
Fungal Infections
General wellbeing and relaxation
Soporific
Client Reviews
Star Ratings & Testimonials
Johnathan Tynan, aged 18 has lived in the West of Ireland all his life and has suffered from severe Acne since the age of 13. Having been on prescription medication for years, Johnathan's doctor suggested he try Saltwater Seaweed baths to see if this age old therapy could possibly help his condition. Johnathan says "I had a friend who had his psoriasis cleared after a couple of baths so I had nothing to lose by giving them a try as they're only up the road" After just three seaweed baths Johnathan was overjoyed "I hadn't slept a night through in 5 years as the acne on my back was so severe that wounds would weep when I tossed and turned in the bed at night. The baths completely dried the acne up and the pain was alleviated. I have been on the strongest acne medicine for years and it's amazing that a few natural baths helped clear the lot in such a short space of time"
Norman McDonald, a retired company director and sufferer of arthritis was sceptical at first. "My wife suggested I give them a try, but I was never great at lounging around in a bath so after much persuasion, I gave in." I have been on Arthritis medication for 6 years and after the first bath my hands felt supple and I didn't need to take my meds for four days, every time I now visit the West of Ireland I make sure to include it on my list of things to do, not only for my arthritis but for utter relaxation"
Reviewed by Henry Parker on the 15th August 2010
I had an amazing experience at Connemara Seaweed Baths in Leenane Co. Galway in July. After a steam bath while drinking copious amounts of spring mineral water, which apparently is free (it flows from the spring on Leenane Hill and contains no chemicals), it was off to the bath, with salt water from Renvyle (Killary Harbour can sometimes lack salinity), the fresh seaweed is picked daily from the shores, it was an hour of bliss, with discreet relaxing music in the background which left me and my partner both feeling ache free and silky soft (apparently the more you have, the better and at €20.00 not just for the owner Brian!) the candle light is a very nice and a flattering touch. I will definitely be back for more. You can view the Habour while taking the waters through the full length windows without the need of curtains, which was a novelty. Stayed in one of the larger ubercool new rooms and also stayed for dinner, bed & breakfast, for all included for the 3 days was €199.00 euros – amazing. (Please note that the above mentioned offer of €20 is a seasonal special, normal rates for seaweed bath and steam room/sauna are €25)
Spas.ie
–
Reviewed by MC on the 9th September 2010
I highly recommend a visit to Soak Spa. From the tranquil atmosphere to the professional and friendly staff, I look forward to returning.