How it Works
Detox - Relax - De-Stress - Refresh - Soothe - Soak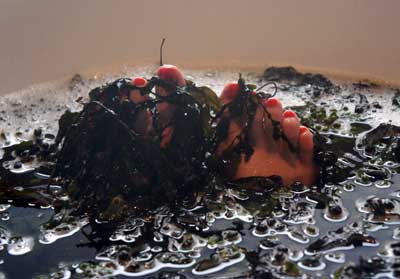 Seaweed Baths
Single Seaweed Bath & Steam - €40
Thermal Suite
Our thermal suite experience provides a selection of 'hands-off' therapies
We run a bath of boiling salt water over fresh sustainably harvested seaweed while you retire to the steam room to get your pores open. When you return to your bathing room you add as much cold water until your desired bathing temperature is reached. You then soak in this wonderfully nutritious bath and absorb all the minerals. When you have finished you can immerse yourself in our outdoor salt water plunge pool to close your pores.
DO
Immerse your head or place seaweed on your hair – it is a wonderful conditioner
Take some seaweed and use it as a cushion behind your neck for extra comfort
Drink lots of water during and after treatment
Take your used seaweed home – it is an excellent fertiliser and nutrients still remain even after bathing. (Do not though place it directly near plants as it can be too strong.)
Sit back, relax or take a selection of magazines from reception to browse while bathing
If at any time you feel lightheaded from the heat – drink water and use our outdoor salt water plunge pool
All our water is chemical free and the salt water is taken from the wild Atlantic coast.
THERMAL SUITE
Our thermal suite experience provides a selection of hands off therapies. A place where you can come to relax and rejuvenate in our outdoor jacuzzi, traditional sauna, plunge pool & steam room.